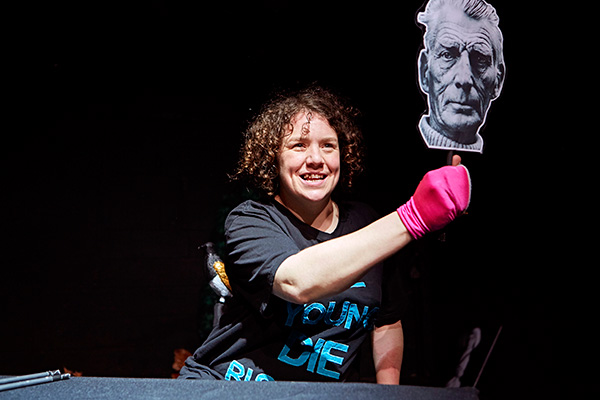 In our final two days at the 2017 Edinburgh Festival Fringe and International Festival I caught 6 shows and missed one. My apologies to my colleague from my very early days in Edinburgh, Robert Dawson Scott, for having a ticket and the complete intention to get to see Assessment. Sadly my previous show overran by 5 minutes, I then delayed to meet with one of the directors of a venue hub, and then hit crowds. I had allowed myself too little time to get across town to the new Rose Theatre, and realised I would miss 15mins plus. I know you have had great reviews, and I hope to get the chance to see the play in transfer soon. Sorry Robert.
Next it was over to see Manual Cinema from Chicago's second show at the Fringe "Luna del Rae". 4 puppeteers and 4 live musicians creating a magical full-length silent movie fairytale on a screen above their heads. Theatre is magical and mysterious and live – and I love theatre where I can see some of the mechanics which allow the magic to be woven, and which invites us to suspend ourselves within their world. Watching cinema can often be a more passive and less visceral experience – but not this afternoon with this company. Every frame was created before our very eyes with shadow and the use of overhead projectors. It was beautiful to watch the "backstage" choreography of the puppeteers, in split focus with the enchanting story on the silver screen. The precision and artistry was wonderful to watch in this packed house at Underbelly.
Without any story spoiler for Luna del Rae, there was a moment where a young character – a puppet – ran towards the edge of a piece of paper with a drawing of the view from a skyscraper. I was so engrossed in the story that my legs got that instant vibration feeling as I watch someone too close to the edge – my inner sympathetic vertigo. An unconscious reaction caused by the precision of theatre visuals. And later in the afternoon I heard much exploring the same topic in a new play "The Secret Life of Humans"
David Byrne is the inspirational leader of the New Diorama Theatre in London which offers immense opportunities for new and emerging theatremakers and companies. So it was a surprise to realise I was about to see a new play which was not only a co-pro between NDT, the Pleasance and Greenwich Theatres, but also written by David, and co-directed by him and Kate Stanley. A packed house in the Pleasance allowed themselves to welcome a highly erudite exploration of the theatre of the human mind, using the work of Jacob Bronowski's "Ascent of Man" as our entry point. From here David and the company use the telescope of drama to observe ourselves, our fellow humans, and our extraordinary minds. "What shared history still lives in each of us, just below the surface?" – well to find out you have a few more performances in Edinburgh and then a transfer back to London in May 2018 www.newdiorama.com   Thank you company for a fascinating programme offering us some additional reference material and source books to take our own research further along the paths you offer. This is a fine play, offering complex theory and challenge in a highly accessible form where I really cared about the many intersecting relationships. Thank you to the company of actors, the creative team, especially the scenic designer Jen McGinley.
I am so pleased to have seen "Fagin's Twist" from Avant Garde Dance Company for a second time. My first was with a passionate lover of all things Oliver Twist when we saw it at The Place, and now to return with Kath to see it in the wonderful dance venue on Zoo. Tony Adigun, choreographer and founder, has created a "poignant coming-of-age dance theatre" with writer and dramaturg Adam Peck and Maxwell Golden. Rooted completely in Dicken's orginal smell and flavour of 19th century drama, it is a new refracted look at the characters we think we know so well. The company of 8 hip hop contemporary dancers are quite wonderful, effortless in their physical stamina and presence. Deservedly getting standing ovations and star studded reviews.
This like the other two company shows above show the sheer quality of the professional creative companies on the Edinburgh Fringe, and for me the ever blurring lines between what is in the International Festival brochure and what is hidden in the 3000+ shows of the Edinburgh Festival Fringe. It feels strange that, as I understand it, young companies in England cannot get grants to make and bring shows to Edinburgh, but here regularly funded and established organisations like New Diorama, Greenwich, the Place, as well as Northern Stage, Soho and others use their funding core, staff and fundraising skills to harness Arts Council money to make professionally paid work at the Fringe. Whilst it is to be welcomed for audiences and venues to be able to attract these fine companies with great track records to present work on the Fringe, it does make it a challenge for some of the unfunded companies to put the same oomph of money into staging, actors, paid creative and marketing to make the best work. Maybe this blurring will also continue until these new companies can get funding to help make their great new work for EdFringe, and pay their actors.   Feel free to correct me if my impression is wrong in these assertions.
Last year Patch of Blue theatre company created "We Live By The Sea" which won amazing acclaim, packed hours, international invitations to other festivals around the world. Now they bring their new show "When We Ran" which offers us a similar sense of having a story woven for us from the items lying around in a creative space, and where the company blend their singing, instrumental, movement, storytelling and acting skills to tell us that story. These multitalented young performers effortlessly conjour a world for us. My worry for them is that they have chosen a core story and characters which I find rather difficult to relate to – two young American sisters growing up in, and needing to escape from, a restrictive but loving US commune outside of which no other world is meant to be explored or talked about. This is not a critique of such enclosed societies, just a stepping off point for a lovely gentle adventure of discovery and growing up – but I just didn't care half as much as I passionately cared about the core character of their last show. So pleased they are supported by Greenwich Theatre in their onward exploration of their style and I so look forward to seeing their next show.
Quick run across to Zinny Harris's "Meet Me At Dawn" at the Traverse which, as an International Festival show has been guaranteed plenty of column inches, and rightly secured great audience and critical acclaim. It is finely written, multi-layered two hander exploration of memory and loss, beautifully lit and staged as you would expect with the funding available from the Festival and the Traverse in co-production. So pleased to have seen it, but equally moved by Clare Bailey and Poppy Burton-Morgan's two Metta Theatre rich plays on the Fringe with no (or virtually no) funding. Edinburgh allows the adventurous audiences, critics, and theatre discoverers to explore this wholly uneven playing field from International to Fringe to Funded Fringe to Free Fringe to uncover exciting high quality work for future audiences. My three visits to the Traverse have been richly and rightly rewarded, but I relish my other 20+ visits up and down the dark and narrow stairways to uncover companies like Patch of Blue – keep making work please.
I've reviewed 40+ shows this year in these 7 blogs, and I could not finish on a happier note. In 1984 I had the pleasure of being the marketing/press person for a massive Edinburgh International Festival retrospective on the recently deceased Samuel Beckett. It was fascinating, then, to listen to the challenges to make sure the Estate was happy when Sylvester McCoy and a rich company of actors delivered work exactly as Mr Beckett would have wanted. In 2017 Mr McCoy is at the Fringe and I hope he will take a moment to see the wonderful Jess Thom and Charmaine Wombwell deliver a bilingual (BSL and English language) performance of Mouth in Not I. For those who know Jess and her previous show "Biscuitland" they will know her amazing accessible performance style, her joy is storytelling, and the activist role she plays in making is all see things differently in the world. She is not disabled by Torrettes, but disabled by the attitudes, restrictions, governments, and challenges of working differently in a world which expects all to be the same. If Samuel Beckett were alive he would have written Not I for Jess – it is a celebration of language, the firing of the brain, and the extraordinary power of biscuits. Thank you to the Beckett estate for embracing this bilingual (and at times additionally hedgehog lingual) performance of this seminal work. Grab tickets for the BAC showing, and then see it globally in a festival near you, or planned by you – Jess and Matthew / Left Wing Idiot, are extraordinary in what they have achieved so far…and they are just starting.
Now, a day after returning to England, it is time to go through my programmes (where I have them) and my blogs, and think about the shows I have seen, the amazing creatives I have met, and maybe now I will take some time to look at reviews for some of these shows – and the awards they may get. Delighted to see Animikii and Good Girl both got Voice Magazine awards.
Best wishes to all who are still pounding the streets with their leaflets and well-honed elevator pitches.