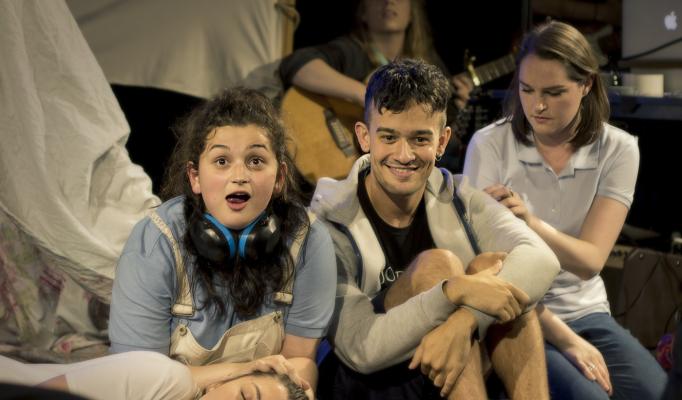 Just had a lovely morning exploring how The Space operates, and exploring the ways forward for an emerging music producer. I keep being delighted to understand the welcoming way in which the organisers of Space invite and support the smallest companies and the newest emerging artists to bring pieces to the Fringe.  We were in their new "Your Space" studio which is specifically designed so that companies can develop Q&A events, and extra readings.  Different ways to make a company feel that they are developing their craft whilst presenting their shows.  It is always a pleasure to do my workshop with companies in Space at this time.
Yesterday I was moved to tears, delighted by song, and given a good lesson in truth about the gathering of fairy stories. I also celebrated the ability for performers to ride the challenges of sound/technical issues – its live theatre, and we were fine with the impromtu extra side events which the cast came up with as the tech problems were overcome. First time I've played an unexpected game of Trivial Pursuits live in a theatre – and I got the author of "Under The Greenwood Tree" right. Result.
Sarah Louise Young is an extraordinary performer.
She and Michael Roulston
are delivering two completely different shows each day of the Fringe. On top of that she is offering us her version of Margaret Thatcher and Princess Diana as part of
Des O'Connor's
new cabaret theatre piece "Royal Vauxhall Tavern" playing at Underbelley at 10.10pm each night.  Do check out her three shows, and her work across the musical theatre and cabaret scene over the year.   I saw RVT at the RVT in London, and now with a new structure, a great trio of performers, we explore the world of Princess Diana, Kenny Everett and Freddie Mercury on an adventure – well worth a visit to Underbelly 22:10 each night
My afternoon was one of those great delights. An invitation from a Mountview actor turned director/producer, to come and see the latest piece from his theatre company. I had added it to my schedule, forgotten why I had said yes, and walking to the Attic at the Pleasance Courtyard at 4.30pm wondering why I had a ticket for this particular show.  Brilliantly there was a small A6 programme handed to us at the end (See yesterday's moaning blog), and so I was then able to connect
Alex Howarth
, Patch of Blue Theatre comapny, and this play "We Live By The Sea" together.  The Attic was packed, and by the end I was not the only one weeping with the delight of glorious uplifting, hopeful, open hearted storytelling.  The central performance by Alex Brain was rooted in immense truth, and the connections of the hearts and souls of the whole company was a masterclass in collective storytelling.
Thank you to Patch of Blue, Greenwich Theatre in London who encourage the development of this company, and the National Autistic Society for existing and helping people as they see the world in a slightly different way.   Shout out to Lizzie Williams, Lloyd Bagley, Alex Brain and Alexandra Simonet who are the onstage cast, and Casey Jay Andrews, Tom Hartford and Robert Hughes the onstage soundworld/musicians – yes 7 artists in the Attic – it was tight.
At the end, I am not surprised, they got a standing ovation – and they were able to announce that a they have been invited to bring the show to New York for the Encores Season in September.  Their challenge is to raise enough money, or call in enough sponsorship/favours, to get the plane tickets, and the accommodation they need in the city. If anyone reading this can help in any way, then please get in touch with Alex Howarth 
http://patchofblue.webs.com/the-team
   I hope actress Alex Brain is up for some awards, and indeed the whole Ensemble.
Yesterday and today have been panel discussions and meet the company days for me. The questions which flowed from a range of artists from Bristol, Northumberland, London, Singapore, Edinburgh, Portugal and Fife were around the themes of early career development. Edinburgh Fringe can be a great place to begin your journey as a producer, director, music engineer, actor, or writer.  The key thing which comes up again and again is planning, knowing why you are there, and never wasting any opportunity. There are representatives of the whole world of the arts, at every stage of their career, and awash with a mix of enthusiasm and experience.  Choosing what you need to know, and how you best reach them, takes careful thought. It ain't rocket science.  But it always makes me sad when I see a lonely leaflet flyerer standing on the street, making no connection with the potential audience, bored out of their brain, tired, paid by some flyering company…to sell someone else's show about which they know nothing.  Get out there and do it yourself. Have inspired conversations. Make connections. Find your audience. And then offer us your very best work.
And as an audience member, prepare to be surprised. I thought I had seen/heard it all. However this morning I learned about STEVE DAVIS & DAVID KURK who have brought their third show to Edinburgh Fringe called "Flyerman 3" in association with The Space.  They are different from your normal show. They have no need of a paid venue, or a box office, or tec support. They use the whole of Edinburgh as their stage, whenever they want to inhabit their show.  After two years playing a regular show in Edinburgh, they decided the part they liked best was the interactions they have with the flyering. So for the third year, they stripped away the bits that didn't work for them and got to the absolute nugget of why they are in Edinburgh. They are spending their time flyering themselves, and talking with their street audience. Brilliant – I hope I meet them on the Royal Mile and can be part of this ultimate treat.
Now it is time to get back out into the sunshine, find another venue, and see some more new work about which I know very little. I am prepared to be delighted, surprised, moved, and excited.  And if an hour show seems to drag, I can put it down to experience, move on around the corner, and see another piece of work.   Experiment and have fun.