"Tell me. what is it you plan to do with your one wild and precious life?" Mary Oliver
UPDATE 9th August 2021. The first cohort 'graduated' on 25th Feb. The 2nd cohort completed their course 29th July. Applications are open for a place on the 3rd cohort which will meet for a 16 week course starting 1st November 2021 . Please read through these pages and, if interested in applying, email chris [at] chrisgrady [dot] org. Next interviews 17th Aug & 9th Sept
CGO has established a new programme over 16 weeks accessible to aspiring creative producers of theatre and the performing arts locally, nationally, and internationally. The course is cloud-based, run from Scotland, for a limited number of practitioners who will work together and learn from a range of established arts professionals.
The course may be centered around theatre practice, but it is open to creative

producers working in all performing arts

(including opera, live music, dance, circus, live art, musical theatre and festivals and more). Many producers work across a portfolio of projects which may also encompass visual arts, publishing and film. The course will not focus on these areas, but the skills taught will be transferable.
The course is cloud-based allowing participants to be together at one time on one platform

working from their own home/work base

. It is hoped that many will meet together 'on the ground' away from the cloud also. The course will help each participant find a mentor, placement and local network which are planned to be on the-ground interactions in and around your own planned future work base.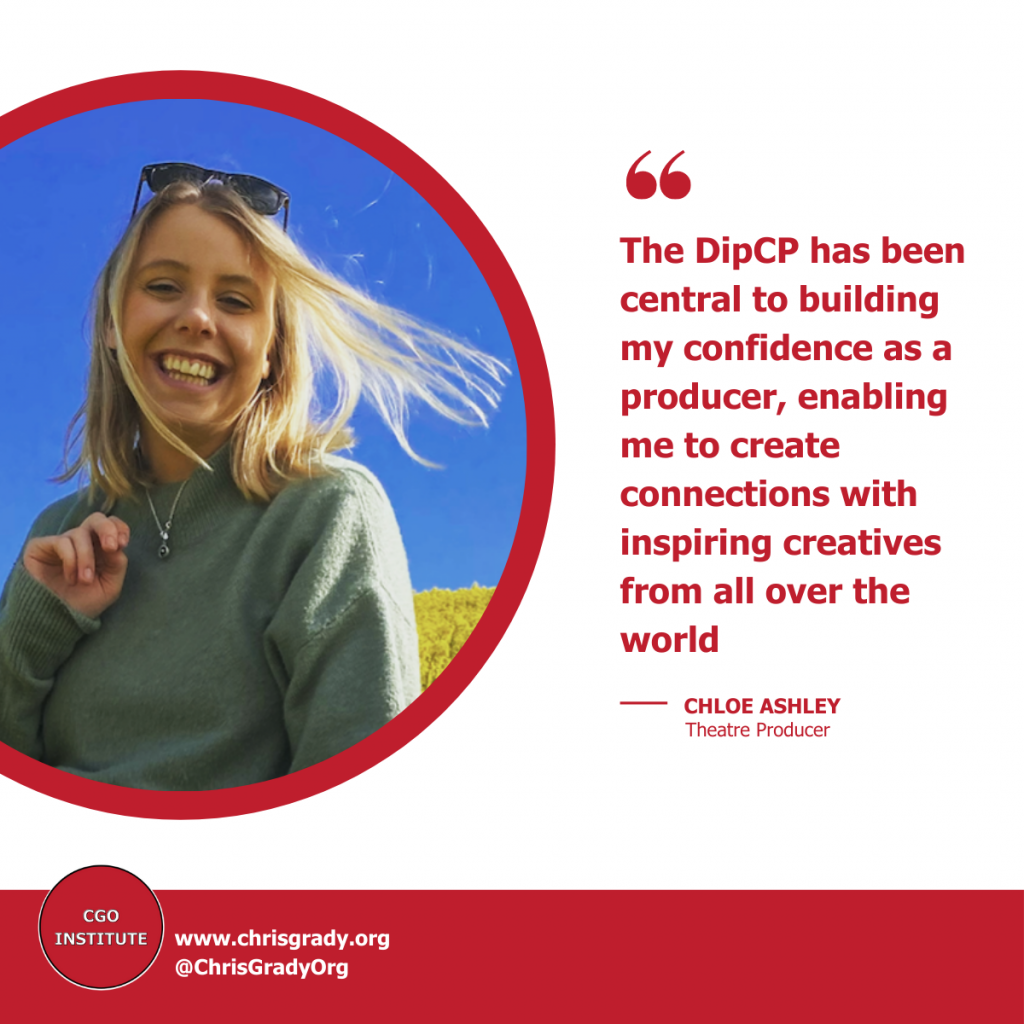 Chris Grady has 40 years experience in the theatre/arts business including 10 years developing and leading courses and masterclasses in Creative Producing in London, Cambridge, Edinburgh, China, Russia, Korea and Japan. This website offers other areas to look at CGO and Chris's work.
The course will be led by Chris Grady but

taught by many different practitioners

who share a similar passion and vision for the role of the Creative Producer. Below you will find introductions to some of the voices that will share the platform in teaching, mentoring and supporting the initial cohort of participants.
"The course is vital in the current state of the world today, to act as guiding lights for artists who have ideas that can impact change. Producers are needed to foster stronger ties, especially international collaborations – to seek opportunities to find what connects us as human beings. Producers also support artists in charting journeys and pathways to realise stories that are yet to be told and to offer reflection to the world – from climate change, to protest, to injustice to political upheaval, etc." Mohamad Shaifulbahri / Joint Artistic Director, Bhumi Collective / Singapore & UK