Here are dates/events for my diary in red – please share. Thank you.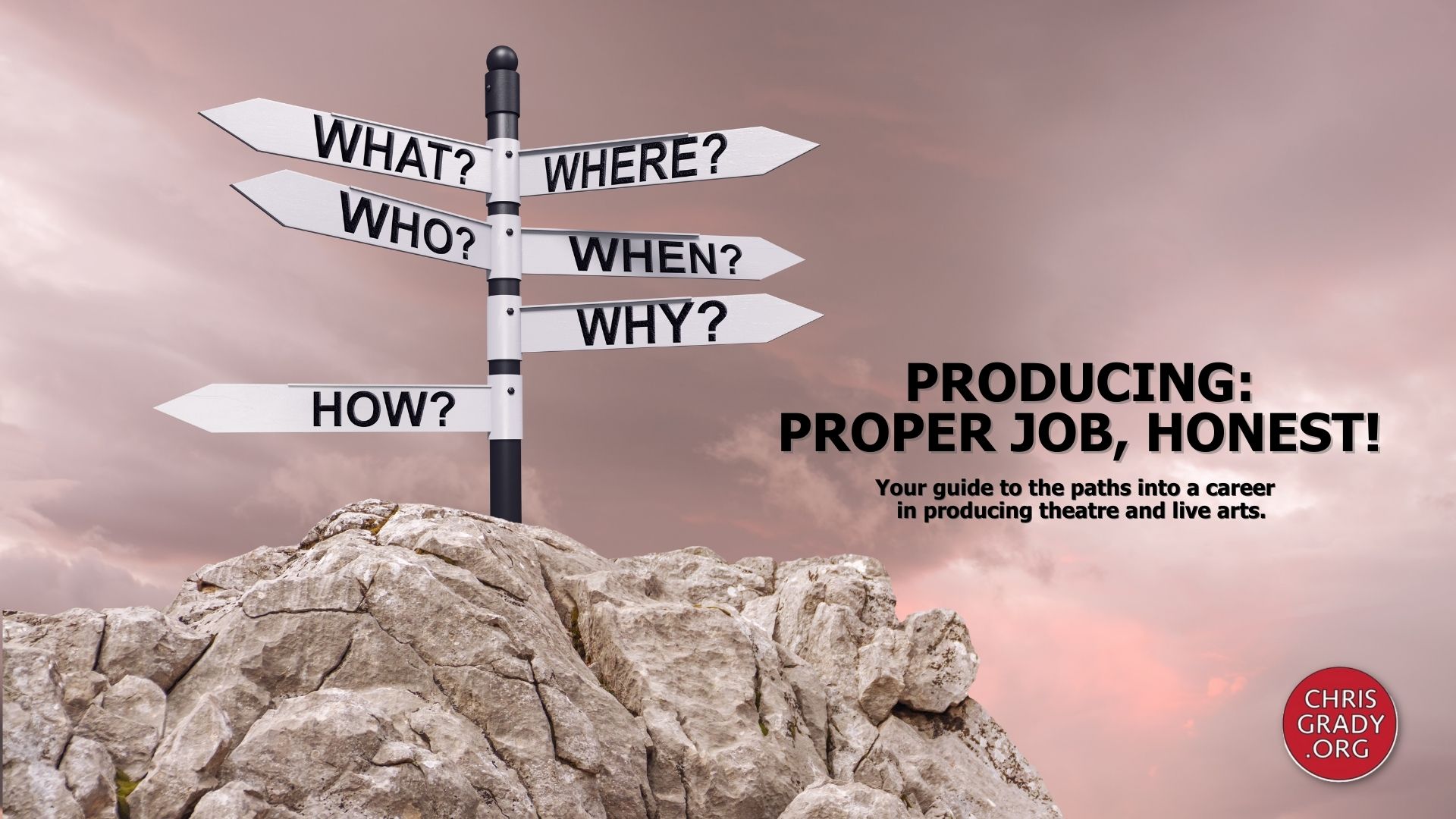 Producing – Proper Job – Honest Workshops. These workshops are 2hrs (usually) and available for network organisations where a one off charge is agreed, or we schedule them for an open access date where the charge is £5 or £2 for ideas rich, cash very poor.  What does a producer do ?  What are the career pathways ? How do I develop my business/craft ? and many more questions explored.  Next open access date is Tue 17th Aug 4-6pm (all times UK timings – you are welcome from around the world). To book a place https://buytickets.at/chrisgradyorg/516062 and there is also Wed 11th Aug 1.30pm as part of Edinburgh Festival Fringe Central programme. for those participating in EdFringe (book via Fringe Central).
Producers' Pool Summer Dates – There will be FREE Zoom drop in sessions each month for Producers' Pool (UK & International) and Producers' Pool (Scotland) run by Megan Schadler DipCP, Liam McIntosh DipCP and Lucy Donald DipCP :  Wed 28th July 5-7pm, Wed 25th Aug 3-5pm. To book a FREE place visit. https://buytickets.at/chrisgradyorg/528644
Producers' Pool (SW England) – Jane McGibbon and Laura Gouldon are running a session for producers who work in or make work for the SW – or aspire to do just that. Tue 6th July 4.30pm https://buytickets.at/chrisgradyorg/543026 
And then autumn will begin with:
Wed 29th Sept Producers' Pool (UK & International) big gathering London and on Zoom exploring programming with venues for 2022/3-  https://buytickets.at/chrisgradyorg/528685
Thur 7th Oct 4-6pm Producers' Pool (Scotland) at Dundee Rep with Musical Theatre Network exploring commercial and musical theatre producing in Scotland – https://buytickets.at/chrisgradyorg/528691. You will also be able to join this meeting by Zoom.
and the launch of Producers' Pool (New York and USA) on Wed 27th October – 2-4pm NY time and 7-9pm London, Edinburgh and on Zoom. https://buytickets.at/chrisgradyorg/528696
Thereafter Producers' Pool (UK & International) last Tue or Wed of the month; Producers' Pool (Scotland) first Wed or Thur of the month and New York tba monthly. 
---
Other available Workshops.  Feel free to contact CGO to book a Producing – Proper Job – Honest workshop for your organisation/network (pathways and skills for producers and SPAs) or The Art of Chocolate Cake (basics in Arts Marketing and Fundraising) and Your Life in Theatre & The Anatomy of your Creativity for self producing and individual artists exploring their career pathways. Do contact CGO for future dates.
---
Diploma in Creative Producing Mon 1st Nov 2021 – Cloud-based – Starting day for the 3rd 16 week Diploma in Creative Producing for up to 12 students from UK and International.  Applications now welcomed For more information start here
Ongoing – private clients / skype or in person:
CGO (Chris Grady.Org) is all about Making Connections through a mix of coaching, surgery, workshops and specialist consultancy. If you would like to learn more, do get in touch. We offer a limited number of clients personal/business Coaching – usually over 3 months helping with a life/business change or a specific creative challenge/project. Do talk to us about rates.
I was asked by another coaching mentor to uncover, through a series of exercises, my own "superhero" – the it/they I have cultivated over the years, and maybe not realised how important this ally is within me. I came up with Bigears.  He was a best friend, must have been a good listener, and for me he is there to remind me to listen to myself – what I am feeling in the moment.  I hope to bring that skill to support my work.   Do get in touch if I can help.