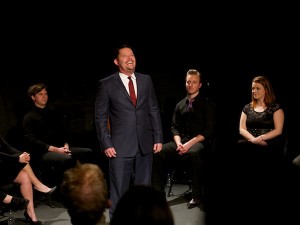 "Who's In It?" . This is probably the most common question when any director, producer, or theatre comes up with a show they want to present. Hamlet – ok but who's in it.   South Pacific – ok but who's in it. Or maybe The Homecoming, or Rocky Horror – ok but who's in it?.
And it gets even tougher if you plan to present new work, or work with a new writer, or a new director. The board of the theatre, or the marketing department, and ultimately the audience ask that question "Who's In It?"
Now each area of the arts, at every scale, has challenges with attracting audiences. A star, or a familiar name, title, creative, theatre help make it easier to sell. For this article I want to focus on the challenge which is faced by Musical Theatre, as I see it, and a proposed solution. The scale I am exploring is middle scale (not blockbuster West End) and unfamiliar/newish work (not South Pacific).
It will be a very very small audience who could name the performers in this production picture, or will have seen it it the tiny London fringe theatre last year.
I was reminded of this challenge walking past The Go Between billboard outside the Vaudeville. Originally this wonderful musical by Richard Taylor and Russell Labey was showcased by Nigel Richards on his very first album. Years on and it is now about to star Michael Crawford in the new version with David Wood and Roger Haines joining Richard Taylor.
Mr Crawford is a star, from the times when they had their names above the title. From No Sex Please… and Billy to originating Phantom he has helped to pack theatres. Just like his co-star from the Billy days – Elaine Paige.
In 1981 the theatre business changed. Cats arrived, shortly to be followed by Phantom, Les Miserables and Miss Saigon, and then Lion King and others. All dominated by the marketing of the brand and the logo. None of them had star billing for their leads after the first cast.   Now the audience don't need to have the answer to "who's in it?", just see the cats eyes or the helicopter and they are happy to trust the casting directors to deliver an array of professionals to wear the costumes, do the moves, deliver the songs, and delight the crowds.  It saved money for years, but it had serious consquences.
Then producers realised they didn't have any stars, and started inventing the reality TV search for a Nancy. Now there are celebrities in shows made famous through TV.   There are honourable exceptions such as Sheridan Smith who was a masterful musical theatre performer before she was made extra famous with a few bags of crisps.
The problem producers and writers face is they need a name, and there aren't many of them because they have stopped celebrating and making stars. Michael Crawford and Elaine Paige won't live forever. And the generation behind them are brilliant but unknown.   Without a name it becomes even more difficult to sell new work, and without new work the theatre industry (especially the musical theatre industry) begins to stultify. Without new stars and new work, it is more and more difficult for new producers to get their work happening. And even the mega producers aren't going to live forever.
So here's a solution for people to shoot down, challenge, or make happen. Let's use the internet and segmented online tv. Let's find a way to invest some funds in the making of a long-running "songs from the shows" TV show which features the brilliant performing skill of consummate mature professionals that the public do not know. Each week feature some familiar songs, and celebrate a couple of new writers or new pieces. Keep the series running. Market it in a way to reach out to all those who book to see shows in the West End and musicals around the UK. Encourage them to follow the series, to vote for their favourite songs (in classic FM style) but NOT to vote for their favourite performer, or do any tricks which suggest someone is a new find. The performers should be the best that the UK theatre business has to offer, maybe supported by fantastic young graduates from the musical theatre academies.
My hope would be that after a year or so, these senior professional musical theatre performers will build up a reputation for excellence, and will start to be in demand by the public. One or two of the new songs might encourage audiences to want to hear more of the writers, or see the new work. There will be the start of a new energy for the talent which we have in this Country.
If we do nothing, then the situation feels as though it can only get worse. If we do something it has to work with the public, with technology, and be sustained over the long-haul.
Then there will be another challenge – we need one or two venues which are dedicated to exploring and mounting full scale productions of new work, with these new popular high class professionals. For plays we have the Traverse, the Royal Court, the National Theatre temporary space, and the many regional repertory theatres funded by the Arts Council to find and develop new work alongside the classics. The UK does not have a single theatre dedicated to this voyage of discovery for new musical theatre. That feels like the next challenge. But first, let's celebrate some of the un-noticed star performers which will make it easier to sell new work.
And then together pieces like Aplin/Pearce's Stationmaster starring Nigel Richards (pictured in skeletal production at the Tristan Bates) will pack larger theatres.
Is there any TV company or internet investor or far-sighted mega producer or funding body who would take this idea on and make it work. Without turning it into a reality shocker, and requiring the likes of Nigel Richards to go into a jungle or pretend he has spent a life working in a garage, only to be spotted by a TV talent scout.  Let's be honest with the public, and ask for their help.