Over the last few months I have moved so much of my life and work online, as so many of us have. When lockdown started, rather than cancel our monthly gathering of freelance theatre producers I worked with a tec colleague Caron Lyon to look at various platforms I had never heard of.  On Tue 24th March, with much trepidation, we opened a Zoom space and even used breakout rooms since, for a few weeks (!), it was likely we couldn't meet together.  Yesterday someone decided I should now call myself a Zj…which sounds fun.
Apart from the monthly Producers' Pool I have had the joy of facilitating many sessions for the Authentic Artist Collective where detailed artistic collaboration and discovery happened from a place of collective stillness and depth;  a number of Federation of Scottish Theatre meetings for producers with speakers and rich discussion;  many cloud based workshops for aspirational creatives in London, Exeter, Edinburgh, Durham, Oporto in Portugal, and the NSDF;  and Michael Dresser's excellent Wheel of Consent workshops.  All these have taught me so much about the way in which facilitators and workshop leaders can hold space and work the room.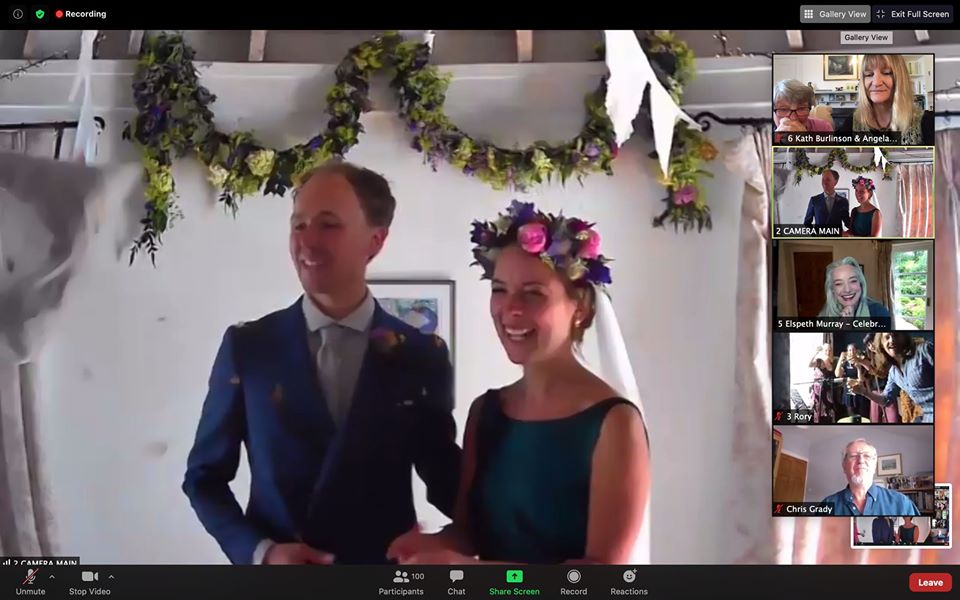 Nothing has ever been more scary, however, that Zj-ing a wedding. Detailed planning by the bride and groom went into creating a phenomenal day enjoyed by guests from the safety of their own homes across 4 countries as they watched and witnessed the coming together of two amazing artists – Lizzie Crarer and Mark Heavenor. Music came from one place, speeches from another, readings from our kitchen, scurrilous best man stories from (I think) a shed in a garden. It was magical and (praise the gods) ran smoothly and joyously.
And then yesterday, something very very different happened which came about through the passion of three performance artists for trees and the natural world. I was asked, over 1 hour, to Zj 20 artists each simultaneously undertaking a durational site responsive solo piece on the theme of Be-Coming Tree.  No rehearsal, no script, no knowledge at all of what any of the artists were going to do, we gathered at 0930 UK time and at 1000 an audience arrived and the work unfolded.  Amazing things unfolded – a detailed study of bark, glorious dancing and earthed movement, sinuous living of a tree, extensive vistas, petals anointing a face, earth covering a naked form, an internal performance art piece in response to the outside, and a mum and daughter bringing a tree to painted relief life.  It was beautiful to witness.  I loved seeing all of it unfolding before me.   
My only sadness is that something happened in my Zooming so the pictures I was seeing were not what was recorded and seen by the audience. I had thought I was bringing them back to an image of all the art on one screen, and in fact my Zj-ing gave them closeup after closeup of these amazing artists. So I am most definitely only a Zj in training and I know that I need to set up a dummy event and see what I was doing wrong.
What have I learned about Zoom and working in-the-cloud:
It is possible to get a group of 15-20 people gathered in a space and focussed on a single thing. Take time to settle at the start of a meeting. Be calm, avoid distractions and focus on what is needed.
It is possible to get a lot of stuff discussed and agreed. Have very careful timing and realise that everyone needs time to speak. (Giving everyone a certain length of time, or the chance to speak until complete are two forms. Try different forms, but give everyone a chance).
We are all equal in the space. It is difficult to hide and just be an observer, or to dominate and be a loud chair – provided you have a facilitator who can wield a mute button sometimes.
Using breakout rooms when people gather for a meeting can be an effective ice-breaker – just as people do in real life, gathering to chat before a meet. 4-6 people is enough.
It is never the same as offering an artist applause, or a friend a consoling hug. But love and care can flow through the ether in this strange medium.
If doing a presentation or a reading, do lots of pre-thinking. Think through timing and which screens should be on and off, as you would a filmshoot or an outside broadcast. Zoom can't do everything you'd love, but it is a powerful tool. (mindful that sometimes, like Be-Coming Tree there is no time for rehearsal…in which case…good luck)
And finally – I have a lot to learnabout this platform and wraparound or alternative platforms before I start the cloud based Diploma in Creative Producing in 3 months time.
And now, for me, early planning for a new zoom artistic project which brings some of my ground-based research into how we choose to reveal our bodies through life, performance and art. I will bring all I have learned in the last 4 months and see what can be created.  Can't wait to work with Kath on this, and hopefully many of the artists who have explored this idea with me in the past.
Now back to the joy of writing a grant application to Creative Scotland for equality, diversity and inclusion work for the Diploma.  Thanks for reading.