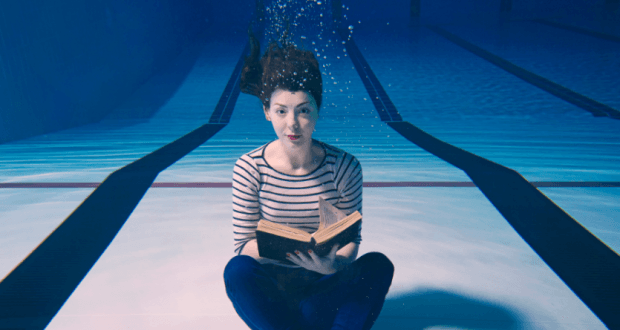 This was planned as an 8 show day – which is eminently possible on the Fringe, but in the end I abandoned a cross city walk to one show, and saw 7. Here are thoughts and recommendations for 6 of them.
If you are 53 and over, or a programmer of a theatre with an older audience, then Looking for John (Assembly Hall 11:00) is a beautifully caring heartfelt one man show for you. It is a gentle quest to rediscover the Olympic ice-skater who changed the face of ice artistry for eve, John Curry, winner of Olympic gold in 1976. Written and performed by Tony Timberlake it explores Tony's own life from the 13yr old boy transfixed by the beauty of John's dancing on ice, through to his own present day achievement in celebrating and commemorating John's life. It is also an honest reflection on being gay, being private, writing letters, friendship and loneliness. For those who don't remember, here is John Curry 1976 footage (or go watch it with the 13yr old Tony with 19million other people glued to their grainy TV screens)
Sex, sexual awakening, being proud of your sexuality, and being in control of your own body and life became themes for the day for me. By chance they also followed a very logical (although completely unintentional) growing up journey. After Tony, came Naomi Sheldon's one person celebration of growing up from 10 to 21 and finding out how her body worked along with her friends. Good Girl (Just the Tonic at the Mash House 13:00)
Directed by Matt Poever as a thematically linked series of glorious shortstories , this is another perfect touring show – but here the target audience is much broader – anyone who has been a girl, or has known and loved a girl as a wife, lover, sister, confidente or daughter. I felt I was watching a consummate stand-up comedienne presenting a compilation of years of award-winning short story routines, and still I felt I was just touching the surface of a wealth of stories still to be told by this girl at every year of her growing up. It is light, and joyous, and heartfelt, and true.
Gripe of the day, gripe of my Fringe every day, gripe of my life of going to the Fringe – give me a programme…just a tiny piece of A6 paper with credits and names and contact details on it. Don't make me work to find out the name of the director, the name of the company producing, the name of the writer or the artist. I don't have time if I am a promoter running from show to show not always sure why I have this particular show on my list. Telling me a hashtag during a curtain call is just words in the air – I'm clapping not waiting to catch your long twitter, facebook, email addresses.  [And don't wait till next Festival or the tour to correct this – go to Fringe Central and type one now !!!!]
Next I entered the darker, brutal schizophrenic world of sexual exploring clown Narin Oz #Dirty Woman (Laughing Horse at Cuckoo's Nest 16:15 Free Fringe)  . Narin is using the Fringe and us as willing audience to explore the creation of a new show, and first the bringing to life two very different characters fighting for the domination of her soul and morality – the gentle slightly scatty lecturer on relationships and money (or lack of), and the explosive depraved and rather glorious lover of all things dangerous and brutally honest. Narin is naked in her place of discovery and she is willing us to share in this naked discovery of two fundamental sides of all of our psyches. Going there is edgy and unpredictable, but I for one will return and look forward to seeing how she has developed the work over this Fringe, and onward to next year. This is one for a producer/promoter who might want to go on a long journey with a possible daughter of Red Bastard.
And next to Mission Abort (Gilded Balloon Rose Theatre 17:45), Therese Ramstedt's very personal story of choosing to have an abortion, and the loneliness of hiding your thinking, your fear, and your actions from others. It is eloquently explored through a series of scenes using monologue and song. Yet again no programme so I have no idea who wrote, directed, or composed the piece – but they have made a rich hour exploring many issues around family, partner involvement, health care, pro-life campaigning, and even the pronouncements of Trump. At its heart is a fine actress showing her heart. Against so much competition on the Fringe solo show circuit, a show which explores a subject which is too often hidden, may prove to be hidden from view itself – I hope not, because the audience were engaged by this tale – moved and touched. Good luck to producer Courtenay Johnson on this show.
By contrast, but in the same venue, so a perfect double feature with a supper break, comes Mindy Raf's poly bi jewish new york standup energized edgy storytelling about being out and proud in her own life and loves.  Mindy Raf – Keeping my Kidneys (Gilded Balloon Rose Theatre 19:15). Described in her own publicity (and I don't disagree at all) as 'the kick-ass, real woman that you've been waiting for' Theasy.com.  With some fabulous imagery I will never forget, killer lines to encapsulate the joy of bisexuality and the "pollysmolly" thing – this may not naturally play the same audience as Losing John, but it eloquently touches on deep and personal issues which most sexually active adults encounter – just explored from her very personal viewpoint with "a narrow cervix and a wide heart".   I loved this deeply necessary sexual standup. Just a thought: I hope the title gets a re-think, because I would not have chosen this from the name alone – and you may be losing many of the right audience with the wrong title.
And finally to a non-thematically linked musical- Toxic Avengers (Pleasance Courtyard 22:30)  I saw this off-Broadway toxic waste and mutant love story in its first London showing, and now it is a tight 5 hander multiple role playing celebration for a young fringe and off-west end audience. The show suffers from its timing – this is a 12noon-5pm fantastic celebratory afternoon one/two pint student and theatregoer romp. It is playing at 22:30 (actually going up at 11pm) meant the fantastic energy from the stage was just not matched by the sluggishness from the audience. Timing is everything, and I hope people seeing the show now, or missing it because it is too late for a theatre/musical crowd, will grab a ticket for it at the Arts Theatre when it should attract the Rocky Horror / Avenue Q / fringe theatregoers that the cast deserve. Again no programme so all I can say is congratulations to all 5 great performers including Oscar who I recognized up there – sorry I was too tired to hang around and say congrats.
Now a more gentle 4 show and meeting lovely people day.
PS Image – Naomi Sheldon's one person celebration of growing up – Good Girl (Just the Tonic at the Mash House 13:00)