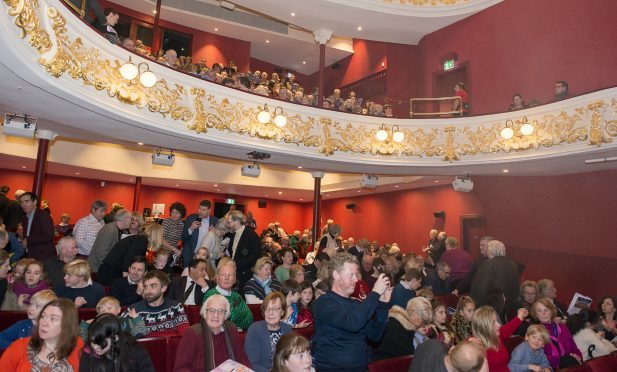 When I was working with Christopher Richardson, the legendary founder of the Pleasance Theatres, with architect John Marsh on Keswick Theatre by the Lake, Christopher described his perfect theatre – it must be warm and welcoming on the outside (and in its foyers) and then dark and mysterious inside. It is not just the designers, building and management that make this happen, it is also the staff – front of house welcoming us to the theatre for a great time, and backstage weaving their magic to take us into a mysterious world.
This week I have been to Perth Theatre which has had a massive refurbishment offering extensive foyers and more studio and education space, to the Traverse Theatre in its deeply underground world where the box office is still in daylight but thereafter we enter darkened worlds, and to Dundee Rep where I had time to enjoy both the café (and yes the sultana and walnut cake was still warm from the oven and most welcoming) and the theatre.  It was my first time to Perth since seeing Donald Maxwell in Sweeney Todd in 1989 (still my favourite production of so many). Before then I had worked with Rikki Fulton and Jimmy Logan there, and seen many wonderful Joan Knight shows.  But this is now, and that was then.
The Perth box office were welcoming and lovely. The café bar was attentive and welcoming and persuasive (and the haddock goujons were a perfect snack), and the staff as I entered this beautiful house were lovely. I had the opportunity for a quick tour with the resident theatre producer quickly as we sneeked into studios and education corridors. It feels great and it has enough air for the full houses in all spaces to have space to move and be looked after at the bar.
I was seeing Touching the Void out of the Royal Lyceum in Edinburgh and Bristol Old Vic. Play by David Greig and directed by Tom Morris. Sadly there were no programmes and so I have no idea who the excellent 4 performers were or the designers who excelled. I hope the show transfers or has a much longer life. It is powerful stuff and a sense of true danger for actor and character as they climb the Peruvian mountain that nearly cost Joe his life. There should be a health warning on the show, because I think I managed to watch 40 minutes of the first half without breathing. It was breathtaking, honestly.
From here I headed to the Traverse which many readers will know from their times in Edinburgh during the Festival. This strange subterranean world seems to almost reverse Christopher Richardson's recommendation – the bar is most definitely dark and mysterious, and then the theatres can be most warm and welcoming – as it was tonight. Kath and I headed to the underworld to join those living there in the Dark Carnival. This part gig, part physical design led theatre, part poetic songcyle is conceived written and directed by Matthew Lenton with his company Vanishing Point.  It's a co-pro with Glasgow Citz and in association with Dundee Rep Ensemble. Another packed house of recently deceased folk up for a party and up for the songs of A New International, Biff Smith's great band. (PS It is at Dundee Rep this next week 13-16 Mar if you can grab a ticket)
The Traverse dark in the bar space clearly has one advantage, it is an appealing place for the Friday night after work drinks. It was good to see people there who were not going to the show, and were using the space.  I look forward to a meet up with some of the team at the Traverse in a few weeks time when I can understand whether the foyer/bar is choice or just the fact that there seem to be no methods of natural light. 
And yesterday morning I headed off to Dundee Rep. I'd been there to see The Snow Queen at Christmas and wanted to come back and see the Ensemble of actors (except for Anne Ross who was down in the underworld at the Traverse in fine form) offering us a drama. It was  great to have the chance to see Jemima Levick's take on All My Sons by Arthur Miller, and it makes me want to catch up with all her work now as Artistic Director of Stella Quines. I admit I had never seen the play before and it packs a massive punch. Irene Macdonald and Barrie Hunter as the Keller parents are born for the roles. I was fascinated to see this classic text, and to wonder and I think understand why Rep director Andrew Panton had wanted to see this play on stage at this time. The nature of loyalty, family, honesty, responsibility are all thrown in the air of debate and often shattered on the ground of reality. Thank you to the whole company and especially (for me) thank you to Lighting Designer Chris Davey and Composer David Paul Jones who created a sound and light palette which was wonderful to submerge myself in.  Chris was also responsible for Touching the Void…he sure likes challenging stages to explore.
It was fun to explore Dundee a bit, and drive up to the Dundee Law and look out across the estuary and across the whole city. I look forward to coming back, getting a wonderful welcome from box office, café and front of house staff again, and seeing the company in different work.  My next booking must be to the Kielty Brothers creation of the A-Z of Dundee playing on tour around the Kingdom 28 May to 22 June.  But first a drink with John Kielty is called for since I find I now live just 3 miles from him.
So thank you to all the front of house, café, bar, and warm welcoming staff of these three theatres. And thank you to the creators of magic and mysterious-ness to all the actors, technical teams, and creatives who make us want to come through your theatre doors in large numbers. Each show I saw on Thur eve, Fri eve and Sat mat was full.