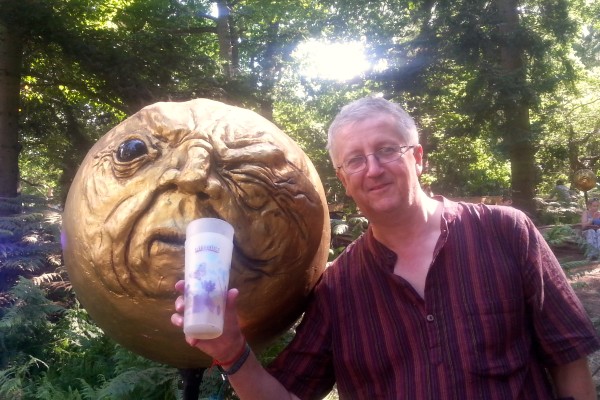 We've just returned from 3 days under canvas in the blazing summer of Suffolk along with 38,000 other theatre, music, festival, beer lovers at Latitude. It was our first time and we saw 30+ acts and shows in those days across the widest spectrum.
The joy of Festivals (as I wrote in a blog about contemporary dance audiences a couple of weeks ago) is that you get an audience for almost every event who are there just to see what its like. They may spend 15 minutes transfixed by some new dance, then wander through the far away forest to see some live art or counter-tenor opera, before settling down with a beer for the main headline music acts in the arena. Latitude is an amazing array of spaces and performance styles and we picked our daily fayre for various reasons – we knew someone in the show (a few), we wanted to have a day of female artists, we wanted to see some companies we knew/admired, and we just needed somewhere to sit for a moment and relax.
My admiration goes out to the organisers of this festival, to the legions of volunteers who kept us on the straight and narrow, and the brilliant cleaning staff (who I hope were paid) who offered us the cleanest loos of any festival ever seen.   Thank you to one and all.
Before I offer some highlights, and special shows/artists to watch out for – can I make a plea to all technicians and those who work on making shows happen in open air spaces or areas with visible "backstage". Remember visual noise. Before a show happens we as the audience have no problem in this most open of festival environments seeing tech teams and the artists preparing their set. The star can come onto the main arena and do their own sound check. The techie can be all over the stage with cables and lights. No problem. We know this is not the show and it adds to the fun. But when the show starts there is nothing more annoying for me than visual noise.   There was one tent in particular and one show in particular where we had a clear view of both the singer/cabaret artist, and his sound engineer. They were a few feet apart because that was the size of the tent. On two or three occasions we lost all concentration on the singer because of the bored antics of the techie. We did end up going to speak with this particular student technician to remind him about visual noise. Please take a moment when producing or preparing a show to remind your tech team that if they can see us, we can see them. If they are reading a book or picking their toe nails, we can see them. If they are chatting with their mate in a stage whisper we can often hear, and definitely see.   Please keep the visual noise to a minimum. Thanks.
And from Visual Noise to Visual Delights. Highlights for me included two shows created especially for festival settings, and created by companies that I hope we will see much more from in the future "Monotone Man" from Human Zoo Theatre Company (who now prepare their show "The Girl Who Fell in Love with the Moon" for Edinburgh Festival Fringe) and "Full Stop" from Light The Fuse and Scribbled Thought. Capturing audiences of 300+ in an open setting, and keeping them enchanted for 30 minutes without straying off to other delights is a real skill. Both companies pitched it just right. Strong musical and visual hooks to draw us in; engaging physical performance and visual suddenlys to keep adults, students and tiny tots engaged; and in both cases characters we could relate to in our everyday lives – albeit one cast were grey-ed up and the other cast were swinging from a bus shelter.   Keep an eye open for these creatives.
Music is at the heart of most festivals, and I admit to knowing very very little about current bands.   So it's a real delight to be blown away by a newish band, and then read that they are indeed hot and going places. Savages were amazing blasting us with post punk power . I was in awe of Fay Milton's drumming and Jehnny Beth' charismatic electrifying presence on stage (and walking across the audience). Our reason for going – it was all female, and we wanted to check out BBC Radio 6.   One of the few acts where an all-black costume lineup really worked. Too often artists were lost on vast stages by performing in blacks (I guess you could say not enough visual noise).   My other unexpected experience was the masterclass in beatboxing from Grace Savage. "Blind", her one-woman theatre shows, plays Soho Theatre for the rest of this week and she is staggering, mesmerizing, and breathtaking to quote from some reviews.   Why Grace Savage – well we were on our way to see three other female poets in a triple bill, and she was playing before. I love chancing on the unexpected.
Latitude is famous for its theatre and it was wonderful to catch a pre-dress rehearsal pre-world premiere run through by Kneehigh of their new show "946"
This is a collaboration between Emma Rice and Michael Moorpurgo to bring to our attention a tale of war, prejudice and love revealing extraordinary secrets surrounding the 946 people who were killed in Operation Tiger in Devon in 1944.   The Theatre tent was packed. We were witness to the final run through of the company before they move into their 25th July – 23rd August season in Cornwall.   It was everything good storytelling should be – simple, rich, beautifully executed with puppets and multiple role playing, and allowing us into a world of human tragedy and tenderness. But Ahhh – they ran out of time. Just as we were nearing the climax Emma Rice had to stop the run to make way for the next show. I for one am about to grab a copy of Morpurgo's book "The Amazing Story of Adolphus Tips" and see whether I can get down to the Lost Gardens of Heligan this August.   I can't wait to see the show all through again, and to know the outcome for all the citizens of Slapton. Thank you Kneehigh for giving us an amazing piece of theatre in final development.
Other highlights for me were Nitin Sawhney; Dickie Beau ;poet Maria Ferguson  and for Kath (which I missed)  Kate Simko and the London Electronic Orchestra   All visual and aural delights, along with 25+ other acts and artists I can't fit in this blog.
Thank you Latitude. Thank you to the Faraway Forest and the calming Solas area, and thank you to Samuel Wyer and Laura Drake Chambers who created these wonderful faces in gold – [PS – according to twitter they may have been stolen from the forest this morning…please I hope this is just an error and they will have been stored safely somewhere in the getout]