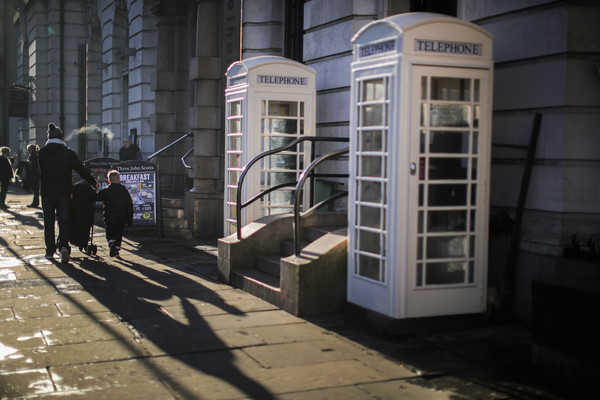 There is art in every moment of our lives if we just remember to open up and welcome it in.   This morning my colleague Jacqui and I hopped in another Hull taxi and, as I have each journey, I asked about Hull City of Culture. This time the conversation in the mirror from a gruff Hull accented granddad went in an unexpected route. To paraphrase…"Its OK, doesn't do anything for our business, people walk, or get booked cabs from their hotel." (predictable). "I don't really do the arts." (predictable). "There is one thing in September I'm interested in, but it will probably be sold out." (interesting)….
"The Royal Ballet are coming to open the New Theatre." (wow, left field). "I wanted to be a ballet dancer as a kid but my mum wouldn't let me." (unexpected, and very special, delivered in the flat gruff tones of a local lad, now granddad). We talked of Billy Elliott the movie, and how he talked to his mum about the fact that he could have been a millionaire as a dancer, and children today, and discipline, and bringing up young people in a liberal but strict way, and the need for politeness, and lovely stories of his own grandchildren on a day out with their granddad. It was heartwarming, unexpected, and a little sad. But he was talking about doing some Tango lessons, although he didn't take my idea of taking up ballet now. "Not with my knees".
And from the real world of art in unexpected places, he delivered us to art in a very expected place – Hull University and my third day at the National Student Drama Festival. Today's workshop is Surviving Edinburgh.
Six producers, six shows, 1 Free fringe, 3 Space, 1 C venues – a chance for indepth exploration of marketing, targeting the right people on your "Christmas card list", timeline project planning, finding the right audience and dealing with audiences who may be challenged by the subject matter, or challenged by the time of day, or challenged by alcohol relaxation – all issues which are part of a producers lot.
Three shows for me today, and then the annual NSDF Quiz. First some fractured cognition between daughter, mother, and the cogs inside mum's head – a surreal and movement based representation of despair, losing a daughter to University, losing the plot, and finding it (maybe) with alcohol. A stage of voices and powder paint from the University of East Anglia in a play written by one of the company Isabelle Kabban. I will miss the discussion about this work, Cognitions tomorrow – it will be a fascinating discussion I suspect.
Then on to see a powerful edgy new play by Caitlin McEwan with the London based Poor Michelle Theatre Company. Thick Skin delicately explores the indelicate way in which relationships can fracture through a thoughtless word, and even more how trust can be shattered through unspoken subtext of a racist or sexual nature. There were genuine gasps from around the audience at some of the awful things which the characters said to each other. A rather wonderful forgetting by many people that we were witnessing a play, rather that we were witnessing unacceptable thoughts and speech between humans.   As my last play following three days of watching new work and listening to debate around what is/is not appropriate casting, language, stereotyping, cultural, sexual, racial and gender representation, and standup routines, it was rather wonderful to find almost all this handled with knife edge dialogue in one play. The cast of author Caitlin McEwan, with Hannah Azuonye, Kwami Odoom, and Harvey Comerford gave excellent performances in a production directed by Ellie Guage. Thank you – and do check out when this play is done elsewhere, and hopefully this cast.
And finally the only musical in the festival this year, Ordinary Days by Adam Gwon which I realised I had never seen in its New York and London productions, but knew from an early workshop and many renditions of some of the dramatic songs in showcases. Durham Light Opera Group with Isabelle Horler, Meriel Killeen, Alex Mackinder and a late replacement Luke Blacklock directed by Sophie Forster with piano MD John Reddel. This was a calmly, heartfelt, wellsung presentation of a musical relationship drama. They allowed the feelings to grow through the rich and long-lined lyrics which owe a nod to the song drama of Maltby and Shire.   Durham clearly has a wealth of talent across its colleges and societies with Hidden (which I didn't get to see), Swallow (outstanding performnces) and Ordinary Days (cracking powervoices and dramatic acting).
Its 11pm, and it must be time for bed. Oh no it isn't. Its NSDF Quiz Time and I had been hoodwinked into joining the Colchester Institute team [Thanks Megan for that]. A mass of teams fuelled with pints and a crazy array of questions around general knowledge, the city of Hull, technical theatre, theatre, contemporary music lyrics, and the inside knowledge of shows in this year's festival.   From the Dubs amendment to the eloquent lyrics of a rapper, from William Wilberforce to the city where Ordinary Days premiered, we were tested. And we didn't do too bad. I was expecting a question about white telephone boxes, but it never came. At one point we were 3rd out of all the teams, and we did get 10/10 on our theatre knowledge. 3am to bed. 8am Mountview staff breakfast. Maybe a little underslept.
Now I head back leaving my colleagues for their last workshops. I caught 9 of the 14 shows, had a great time doing 3 3hr workshops, had a moment to explore Hull as a city, gained enough taxi driver stories to make a play, enjoyed the very cheap beer and good healthy grub of the University of Hull, met some wonderful judges and workshop leaders offering their skills to young people, and witnessed the skill and professionalism of hundreds of technicians, admin management, journalists, actors, musicians, directors and producers who magic this festival each year. A tribute to Clive Wolfe, its founder, and to all the 125 show companies who applied to be selected for the 2017 Festival. Thank you Michael Brazier, David Graham, Joseph (Jo) Schofield, and Matilda (Tilly) Reith – the all year team who make it all possible.
And thank you Hull for hosting us, and the array of events throughout the year as the UK City of Culture. I had a moment for a quick walk around in the sun, and I hope to get back for some events.  Sorry to miss Slung Low who are playing at the moment somewhere on the waterfront.