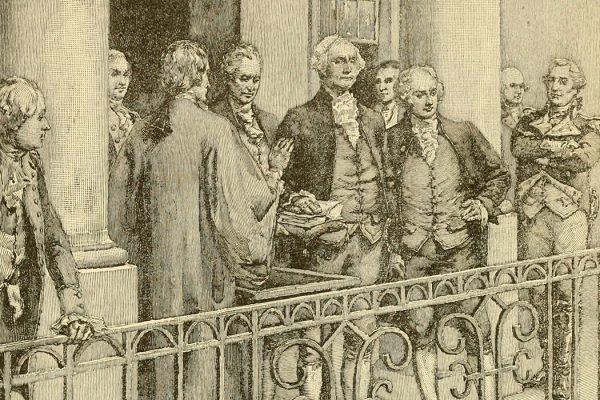 Last night was a treat, Kath and I were (paying) guests of Gabriel Mokake so that we could see him give his George Washington in Hamilton. He's the regular cover for the role and this was a two week run when Obioma Ugoala was on holiday. Both our first times at Hamilton and, yes fellow producers, critics, friends, we loved it. Amazing theatre. Thank you to all those who have brought it to life so lovingly from Lin Manuel Miranda's first White House Poetry Jam sharing of 'Alexander Hamilton' on 12th May 2009. It took another 6 years to reach the Public Theater, and onward to Broadway, and eventually into Cameron Mackintosh's newly refurbished Matcham gem – The Victoria Palace.
[As an aside, I really love that Cameron has brought into the VP an element of Bristol Hippodrome – the wonderful boxes at the back of the Stalls. I feel connected in unexpected ways. My first job was as House Manager at Bristol Hippodrome, often slipping into Box C at the back of the Stalls to see elements of a show. And then I had a week's training transfer from Bristol to the VP to be House Manager there during the run of Annie. I doubt the current house manager has to do hand inspections of all staff lined up in the foyer, as a very unsure 21 year old was required to do as part of the duties as House Manager at the VP. ]
At the end of the show we went backstage. That's not unusual when you want to cheer a young man who Kath first directed when he was 15 and auditioned at his High School in Norwich. What was a first for both of us – the guests of all artists are ushered onto the stage, where the cast then comes to join them. A wonderful atmosphere of greeting whilst the stage management team quietly kept us safe. A party of Hackney Empire young theatre-makers were there with us, along with friends, relatives, and drama school proud principals greeting their starring young charges. I hope this will become the new "tradition" on West End and regional theatre stages whenever possible. How better to make us feel special, and give space for the wardrobe staff to rush around the dressing rooms and get the sticky costumes into the wash.
If Lin Manuel, already the star creator of In The Heights takes 6 years from first song to full show, then it encourages me greatly when I keep telling new writers and new creative to take their time, and slowly bring forward their best work.
There are a couple of other lovely inside scoops about Hamilton which I picked up last night, which go someway to illustrate the mastery of patient creative development. It was 6 years ago that young Gabs was at GSA when a casting director from Cameron's office came to give a talk. [I have written often before about the need for actors and anyone at the start of their career to take notice of all these expert visitors, talks and opportunities]. Trevor gave Gabs some good advice in their session, and last summer/autumn when Gabs auditioned for the show who should he see across the table but Trevor Jackson – who remembered him from GSA 6 years previously. Casting directors are extraordinary beings – they remember everyone who makes a good impression (and probably those who don't). The only ones they will forget are the bland and the forgettable. So, in a sense, Gabriel's first audition for Hamilton happened some years before the show even existed – and then the universe brought the two coincidences together in a wonderful performance last night.
The other insight I learned, as I was wondering how this show remained so fresh and made me feel that I was at the First Night – which doesn't always happen with a company that has been playing 8 shows a week for 8 months.   The trick is the level of freedom which the creative team offer, and inspire in, the company. Just when it may feel it could get stuck in repetitive tracks, the Associate Director Stephen Whitson slips in and suggests a new idea or energy. Add to that the fact that the ensemble move around roles and tracks as people have holidays or breaks, there is always a fresh feel for the company as a whole. For example Gabs often rehearses with the understudy Hamilton – and as Washington the two actors are about the same height. That gives a particular dynamic to their scenes. Last night Gabs was playing opposite the wonderful, but very very tall, originating actor James Westman. Here the dynamics and the way in which a scene is played will be very different.   I felt a real sense of joy in this variation and challenge from Gabs, which is shared by the company.
And last night there were special tears at the end. Rachelle Ann Go gave her last performance as the original London Eliza Hamilton, before heading off to a new project in a very different musical. A wonderful heartfelt performance alongside the amazing Miriam-Teak Lee who was covering as her sister. Special to be there to see them both on fire.
Thank you to all the creative team who patiently bring this show to stunning life each night, allowing us to roar with delight at Michael Jibson's King George and be driven along with the storytelling and passion of Giles Terera's as Hamilton's nemesis Aaron Barr and the joyous double French from Jason Pennycooke. At the end a non-theatre audience member was talking to me and said how excited he was by this sweep of history and found himself googling to find out more about some of the characters in the interval and end.   So in the words of Cameron Mackintosh "welcome to the room where it happens". Worth every penny.
Thank you Gabs for a great night – I've never hugged a President before.