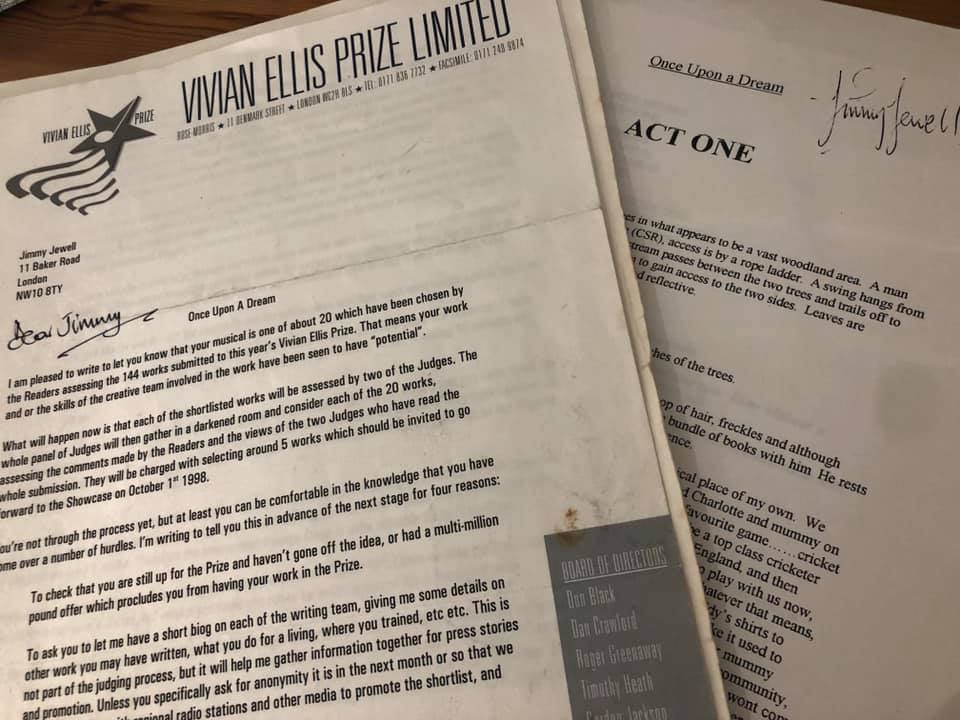 This weekend in my diary was set aside to work for Fiona Orr reviewing 10-15 new musicals at the Edinburgh Festival Fringe 2019. The Musical Theatre Awards have been consistently given each year since I invented them in 2008 alongside the Musical Theatre at George Square programme. First they were run by Musical Theatre Matters, the network we set up for producers and creatives of UK Musical Theatre, and later they have been under the aegis of the Musical Theatre Review and its editor Lisa Martland. It is always a joy cramming in a heap of new shows in the first weekend, trying to give a quick thumbnail review, and recommending a few for the illustrious judges to assess. Sadly Covid put a stop to the festival and therefore the awards, but both will be back.
I was reminded of this by a facebook memory from composer Jimmy Jewell being shortlisted for the 1998 Vivian Ellis Awards which I had the privilege of running for 3 years before the great and the good (well two of them) decided it was an unnecessary project, and the charity shut down. So sad. But in its 15 year life the Vivian Ellis Prize celebrated, like the MTM Awards, the potential of the future. Neither were designed to find Broadway hits – although Six hasn't done too badly and so many of the writers have had their fair share of hits over the years.
So it is fun to look back, but not to wallow in what might have been for the VEP or any of those projects my colleagues and I have created over time. Now is when I look forward. Which reminds me I have a new musical theatre writing project to prepare for my colleagues in Russia, one to explore further here in Scotland with a University, and a third which is on the drawing board for the CGO Institute. I don't seem to have shaken off my attachment to Musical Theatre – which is just as well because I will be teaching Creative Producing to some of the next generation of Musical Theatre producers from November with the Diploma in Creative Producing. I can't wait.
(Thanks Jimmy Jewell for sharing your memory – now an established creative and artists agent, a successful Musical Theatre writer. In 2015 Jimmy was made an Associate of the Royal Academy of Music for his 'outstanding contribution to the UK music industry' – 20+ years of steady career growth from a young submission to a lost prize)
Until next year when, the first weekend of August, I will once again be sitting watching the first fruits of musical theatre creativity in drafty halls and wind swept terraces in Edinburgh in EdFest 2021. See you then.